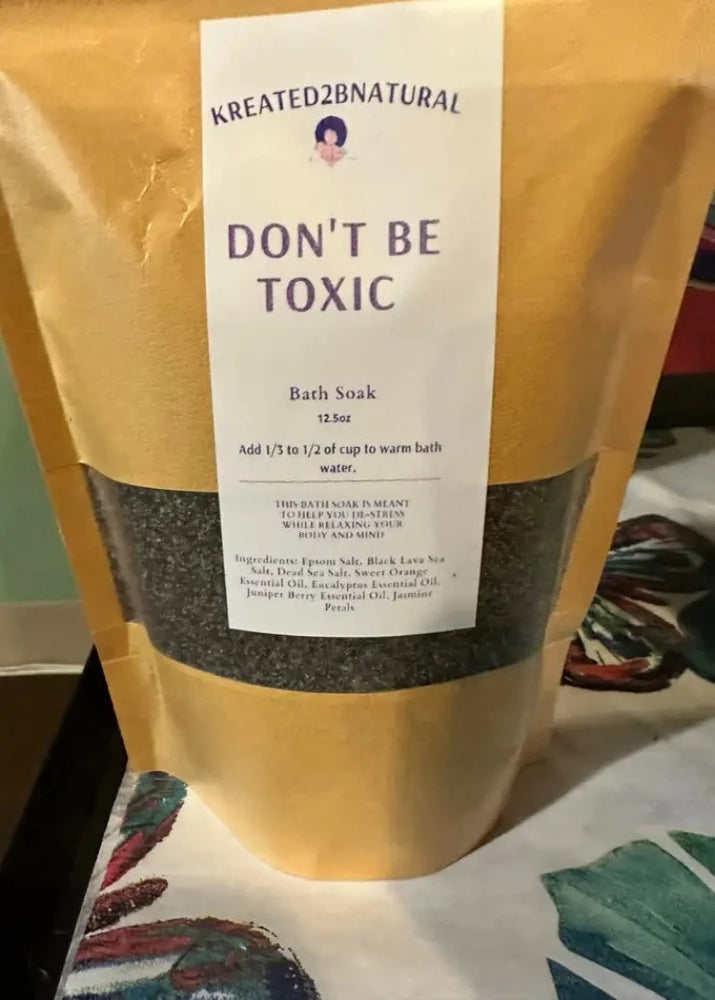 Our Don't Be Toxic Bath Salt is a luxurious blend of all-natural ingredients that work together to detoxify your body, remove toxins, and promote relaxation.
The Epsom Salt in our bath salt is a natural muscle relaxant. The Black Lava Sea Salt and Dead Sea Salt are both rich in minerals and nutrients that are beneficial for the skin and help to cleanse. These 3 salts work to draw out impurities and toxins through the skin and promote circulation, relaxation, and comfort. 
The Sweet Orange Essential Oil, Eucalyptus Essential Oil, and Juniper Berry Essential Oil also help to promote relaxation and circulation, while providing a refreshing and invigorating aroma. The Jasmine Petals in our bath salt add a touch of luxury and they also help to soothe the skin.
Features:
All-natural ingredients

Detoxifies and removes toxins from the body

Promotes circulation

Promotes relaxation

Refreshing and invigorating aroma

Contains Essential oils

Contains Jasmine petals
Benefits:
Relaxes the body and mind

Helps to draw out impurities and toxins

Relaxes muscles 

Reduces stress and anxiety

Leaves you feeling refreshed and revitalized

Promotes better sleep

Boosts energy levels

Improves skin health

Softens skin

Invigorates the senses
How to Use:
Add 1/3 to 1/2 cups of Don't Be Toxic bath soak to your bathwater and allow it to dissolve. Soak for 20-30 minutes then rinse off with warm water. For best results, use 1-2 times per week.
Additional Information:
Our bath salts are made with the highest quality ingredients and are vegan and cruelty-free

They are made in the USA.

They are also free of parabens and sulfates.

They are free of artificial fragrances, colors, and preservatives.

Our bath salts are packaged in a recyclable container.

Store in a cool, dry place.
Order your Don't Be Toxic Bath Salt today and start enjoying all the benefits it has to offer!